Server issue
Due to a technical problem, comments are currently unavailable.

Parking lot day/night
Saint-Maximin-la-Sainte-Baume, 582 Route de Marseille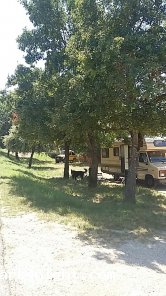 Small parking in the grass with some trees to have shade in the middle of the villas so quiet enough, singing cicadas and frogs assured city center 10 minutes walk with garbage cans and shops on site. No prohibition sign. We had a good night without problems.
Id : 88385 - Créé le 23 07 2018 par
clonico