COVID-19 Alert
Due to COVID-19, this place may be closed or inaccessible.

Parking lot day/night
Vaksdal, 58 Trollkjelsvegen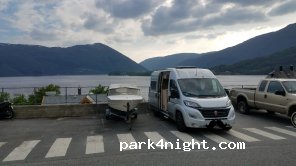 Parking from the station for small van, for access by train to Bergen in 25 minutes and beautiful view on the fjord for those who sleep like us. Do not use the 2 parkings of the bottom which are reserved nor that in front of the garage next to the boat. Presence of a bin.