COVID-19 Alert
Due to COVID-19, this place may be closed or inaccessible.

Parking lot day/night
Bizerte, Unnamed Road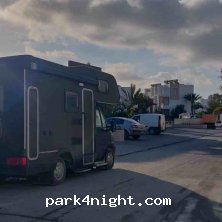 Parking outside hotel Andalucía. We asked the friendly security guard and he said it was ok. He offered us to stay inside the gate.They were a bit worried for us, the friendly police chief came to say hi and wrote down our number plate. We had a very good night sleep.