COVID-19 Alert
Due to COVID-19, this place may be closed or inaccessible.

Daily parking lot only
Scheffau am Wilden ,51 Dorf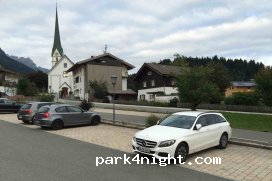 ASPHALTED PUBLIC FREE PARKING IN SCHEFFAU - for Womos is - if they are not very short - if necessary long-distance possible - preferably next to the road that leads west - or only at night please, so as not to upset the locals. Please be quiet and leave no garbage so that there are no parking prohibition signs for Womos here. As a thank you to the community for this car park, it would be nice of you to shop for it in town. Have a good time in Tyrol - and we appreciate your comments, if you liked it here. Thank you!
Id : 99053 - Créé le 27 08 2018 par
theoandme