Parking lot day/night
Reinhardtsdorf-Schöna,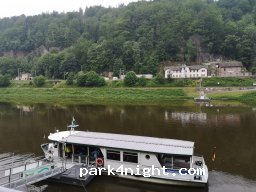 Stand at the end of Bahnhofstrasse, next to the transformer house. However, you are on the DB premises. Trains pass by at night. However, you are right at the starting point for one of the Prebischtor tours - on the German side! DANGER! The driveway is steep, narrow and cobblestone. Not suitable for large motorhomes or inexperienced, fearful drivers. It may be necessary to drive backwards.