COVID-19 Alert
Due to COVID-19, this place may be closed or inaccessible.

Surrounded by nature
Agios Vasilios, 6 Posidwnos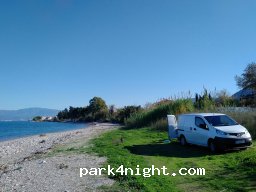 For small vans only. And off-season preferably. I guess this one is better than the parking a little bit further east, because you are really on the beach, not on the road. And a little bit further from the houses too. You are still in the suburbs and not into the wild nature of course, but maybe it's a good point, cause I guess the locals are vigilant and the roms don't hang around as easily as the beach parkings in the center. Access is easy, the sand is not deep and there's a nice grass spot to park. Still, good for one night only waiting for the ferry, as Patras is not a place I'd recommend to stay anyway.
Id : 165504 - Créé le 1 12 2019 par
Goldobrak