Private car park for campers
Buxoro, Khodja Nurobobod Str.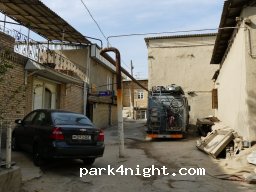 Graf hotel. Registration, parking (only one place possible), wifi for $ 5 per person. We slept in our vehicle but there is of course possibility to rent a room. Very helpful family, the manager speaks very good English and always tries to apply the fairest price for any requested service. Great location and above all, this guesthouse has an excellent laundry service ($ 3 / washing machine).