COVID-19 Alert
Due to COVID-19, this place may be closed or inaccessible.

Parking lot day/night
Dachau, 2 Kurfürst-Max-Emanuel-Platz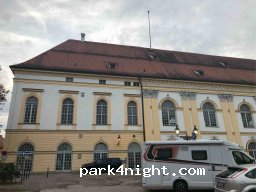 The parking lot of the castle in Dachau. There is a nice view from the top of Dachau and Munich. Public toilets in the city of Dachau are about a 2-minute walk away. During the daytime until evening it is very busy, as many people come up to enjoy the view, mostly it is quiet in the evening. Only sometimes a group of young people decide to spend the evening, then it can be a bit louder.
Id : 158369 - Créé le 23 09 2019 par
leynyx