Server issue
Due to a technical problem, comments are currently unavailable.

Surrounded by nature
Acquafredda, 72 Strada Statale 18 Tirrena Inferiore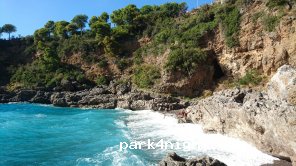 (Not reachable by car) Beautiful bay to sleep in the open air. We left our car at the top of the bar (you can probably sleep there, the owners were very nice), took a few blankets and pillows and slept on the beach chairs that were stacked there in September. On the first day, only two people came by to take pictures. On the second day was still a couple to the beache there. Highly recommended! beautiful starry sky, clear water, possibility to jump into the water.
Id : 157359 - Créé le 18 09 2019 par
binkusch