COVID-19 Alert
Due to COVID-19, this place may be closed or inaccessible.

Parking lot day/night
Vrhovlje pri Kožbani,10 Vrhovlje pri Kožbani, 606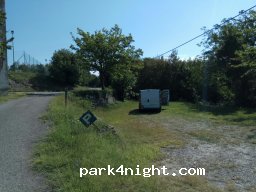 Parking under the municipal stadium. The place is far from everything and seems abandoned. Super quiet night, provide anti mosquito for the evening. Access by tarred road to the west or by tractor road to the east.
Id : 149893 - Créé le 20 08 2019 par
Guldear