Server issue
Due to a technical problem, comments are currently unavailable.

Parking lot day/night
Thonon-les-Bains, 9 Avenue des Abattoirs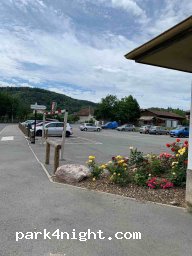 Parking before the entry of Espace Tully. An entrance with a barrier at 1m80 and the other without height limitation. No services, and close to a road but can troubleshoot a night. 20min walk from the city center.