COVID-19 Alert
Due to COVID-19, this place may be closed or inaccessible.

Parking lot day/night
Cádiz,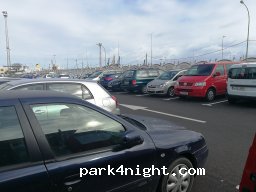 It's a car park and it's busy but it's free 24/7 and it's 5 min walk from centre. All around train station, front and back is free parking. was quiet and safe for me. Great spot considering options. One space for one vehicle, only suitable for normal size van. So please dont bring your spaceships take up 3 spaces and ruin it for the rest. Thanks ? Train station has free toilets too ?