COVID-19 Alert
Due to COVID-19, this place may be closed or inaccessible.

Daily parking lot only
Rotterdam, Boezembocht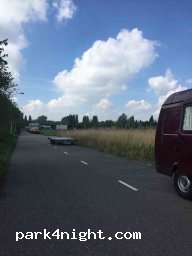 It is one of the last spots where you can park without going into low emission zone. You may park along the street at the industrial area, between trucks that park in here. It won't be the most pitoresque place you have seen, neither the cleanest but it is great for a short visit in Rotterdam. City centre 10 minutes away by bike. There is also the recreation area with some nature, lake and playground nearby. We stayed over there a few times.
Id : 107609 - Créé le 4 11 2018 par
tobiasz